Discover more from Sagar's Newsletter
Newsletter on animation and technology. Featuring interviews with artists, project breakdowns, and more.
Talking to Brenda Chen (Wave)
Virtual concerts, real-time entertainment, immersive art, and more.
This week, I'm talking to Brenda Chen, a Technical Artist at Wave. 
In the past, Brenda has worked as a technical artist and developer at VTPro, Wevr, and Tender Claws. She and I have worked on several VR projects, installations, and interactive experiences together, and I'm excited to share our conversation about virtual concerts and real-time entertainment below!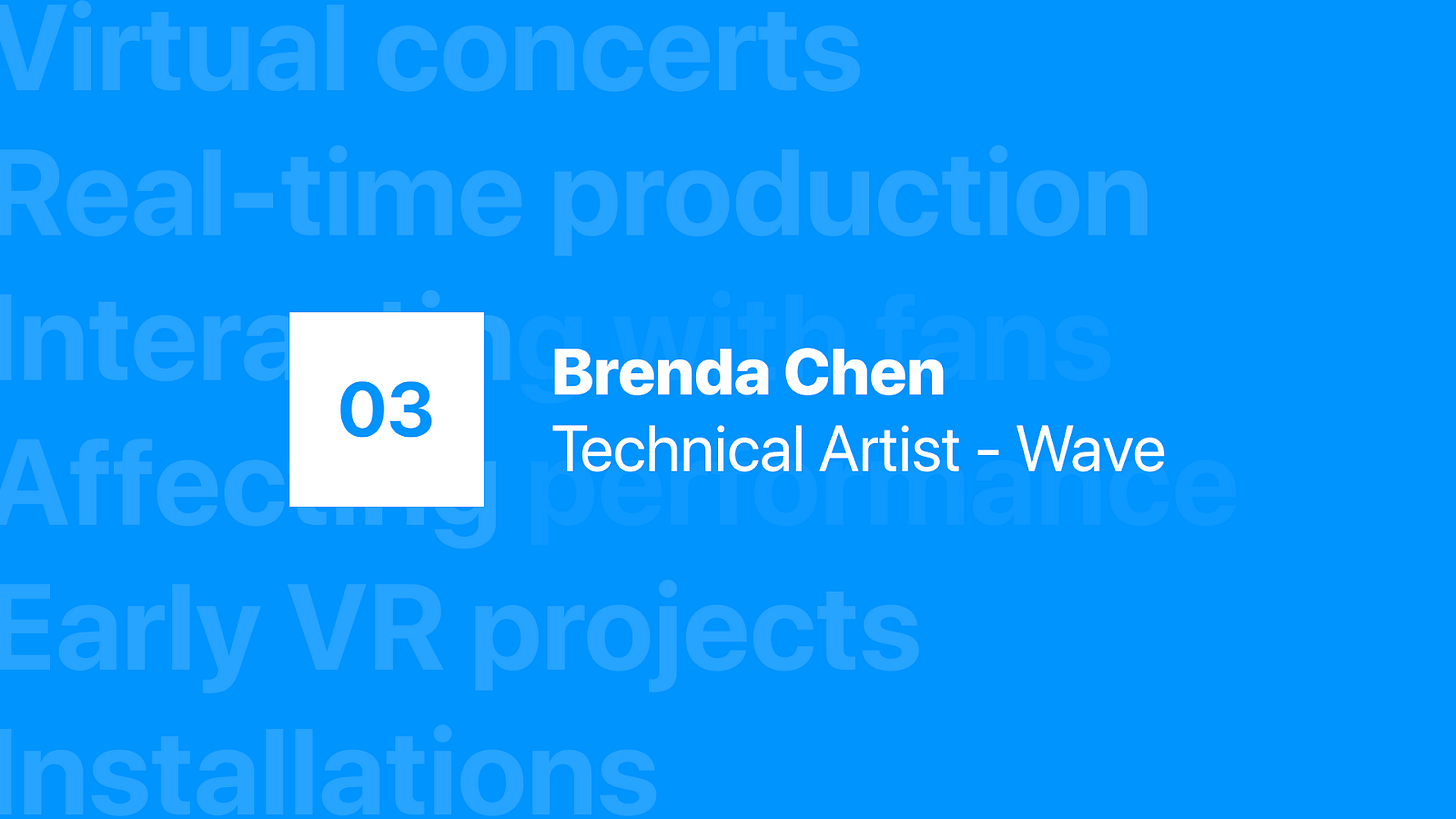 How would you describe yourself?
I'm a multimedia artist. I work on immersive experiences, installations, and real-time projects as a technical artist.
What do you do?
At Wave, I work with my team to design, build, and put on virtual concerts. Because we're a startup, we all get to be involved in different parts of the pipeline. On the production side, I've done everything from modeling and lighting to scripting and writing shaders. During the live performance, we operate like a live TV broadcast— we have dedicated roles for handling virtual cameras, VJing, and controlling the live streams. I've done a little bit of that, too. 
Are there different kinds of shows that Wave puts on?
We run two types of shows: ones with artists who have fixed setlists, and ones with artists who DJ on the fly. For artists with fixed setlists, we can trigger visuals based on specific songs and transitions. We can change the scene's appearance, introduce new forms of interactivity, and much more. For DJs, we have a similar set of tools that allow us to VJ and control different aspects of the scene live. 
Are there different ways to experience a Wave? 
There are three ways to see a Wave. The Wave VR app is the most immersive— if you have a VR headset, you can be a part of the virtual crowd and interact with other audience members. There's a whole community of Wave VR users who drop into shows all the time. 
If you don't have a headset, we also have a desktop app where you can use WASD to move around the same virtual space. However, the most popular way to experience a Wave is through our live streams on Twitch, YouTube, and Facebook.
In all instances, we make it easy for audience members to feel present with one another. That's what makes a virtual concert really special. 
What's the difference between a virtual concert and a stream of a live concert?
A stream of a live concert is just a video feed, so it's a more passive experience. Virtual concerts are much more magical— you always have the best seat at the show, you have the opportunity to affect the show itself, and you can interact with the performer in unique ways. Because everything's virtual, we can also create incredible worlds for the artist that can't be constructed in real life.  
Wave virtual concerts also add a layer of interactivity that is nonexistent in typical live streams. During our Kill the Noise concert, audience members defended the performer against a demon by firing fireballs via Twitch chat. During the Lindsey Stirling show, sending positive messages in the Twitch chat helped to light a dark meadow. During our Jauz show, we had a mini game where audience members could control the movement of a shark to rid the ocean of toxic waste. We're able to do things that live shows can't do to make the experience feel really special for audience members. You can chat with others at the show, and even interact with the artists.
The coolest thing about a virtual concert is that people in the audience get to interact with the performers. Because the chats from the live streams appear in the virtual world, artists are able to see and respond to messages and requests from fans. The overall experience feels much more personal than a live concert.
What does the technical path from pre-production to performance look like? 
In general we come up with a concept, get it approved by the artist, build the show, and then perform it. Rather than having fixed roles at different phases of production, we all work together to bring the show to life as quickly as possible.
We have artists who work with different 2D and 3D tools, a dedicated engineering team that supports our shows' infrastructure, and people who handle roles that are critical during live shows. Everything comes together when the artist is in the mocap suit and we're streaming their show for everyone online.  
What skills do you need to do what you do?
At the Wave, we're all intrinsically motivated self-starters. Because our production timelines are accelerated, we count on artists and engineers who are able to produce high quality work as quickly as possible. 
My work involves everything from concepting shows to building the final scenes and interactive features. I use whatever tools allow me to do my job well— mostly a mix of Unity, Maya, and the Adobe Creative Suite, but other artists may use different tools that they're familiar with.
How does that compare to what other artists or studios use?
Because we're doing interactive real-time work, our pipeline is more similar to a game company rather than a film studio. A lot of our tools are similar to what you'd see at other game companies— Unity, industry-grade 3D software, and more. 
What were you working on before Wave?
I started in fine arts, but now spend most of my time working on projection mapping, installations, and immersive art. 
I was introduced to VR during my freshman year of college, and was blown away. As an artist, I've always been interested in transporting people to alternate universes. After I tried VR, I realized you could actually transport someone to a virtual world. In my sophomore year of school, I made "Santiago," a VR installation that lets players create music and dance with the sculpture of a thirteen-eyed fish god in VR. The project combined art, music, and interactivity in a unique way, and taught me a lot about managing a team, working with real-time tools, and building a large project from start to finish. We've exhibited "Santiago" at festivals, museums, and exhibitions around the world, and the experience gave me the confidence to pursue more ambitious projects. 
After "Santiago," I received a grant from Oculus through the Oculus Launchpad program to develop "Chrysalis," a whimsical undersea VR exploration game. "Chrysalis" taught me how to manage a large team, how to handle a sizable budget, and how to ship a finished project on the Oculus Store. 
My latest personal project is Opal, an immersive light bath where people get to relax in a crystal pool and interact with colorful animations that are projected onto their bodies. Opal premiered last spring, and is designed as a proof of concept for a larger installation I want to make: a giant amethyst cave that encases you in a magical world of trippy visuals and serenity. It's something I'd love to build and Opal is a step in that direction. 
What were your biggest takeaways from those projects?
If you really want to make something, you should just do it. You don't need a class, and you don't have to wait for someone to give you permission. Before "Santiago," I knew almost nothing about 3D modeling, programming, or building VR experiences. However, I taught myself these skills by watching tons of online tutorials and learned tips and tricks from friends. After the project shipped, the experience gave me the confidence to do more.  
How do you think about creative projects now?
Something that's really important for me is the audience experience. The reason I love installations is because they feel more tangible and real— you're physically there.
When I approach projects, I always try to think of something new and out there. That's why "Santiago" was so exciting to make— it's a giant fish sculpture that you dance with in VR! Those are the kinds of projects I love. The ones that give me a new challenge, stand out from other projects, and feel really fun. 
What are you excited about now?
I love working at the intersection of art, music, and technology. At Wave, I'm learning a lot about how different teams function and how creative companies scale, and it's exciting to work in a fast-paced environment. I also love installations and fine arts, and I'm excited to continue creating weird personal projects. 
To learn more about Brenda and her work, visit brendachenart.com or follow her on Twitter. 
---
Thanks for reading. If you have any feedback or suggestions for me, DM me on Twitter or via sagarramesh.com.
Inbetweens is a newsletter on animation and technology, featuring interviews with artists, project breakdowns, and more. Subscribe to receive new issues in your inbox!