Katzenberg on Quibi
Highlights from Jeffrey Katzenberg's USC Q&A.
This week, Jeffrey Katzenberg talked to USC Film students and alumni about Quibi. The event went on for almost two hours, but he mentioned some notable points about the app that I thought were worth sharing. Here are the highlights in case you missed it.
What Quibi and The Da Vinci Code have in common

Why Quibi isn't TikTok

Why Quibi's more like HBO

Who's watching Quibi content

Where he wants Quibi to be in five years
You can read this one in a Quibi.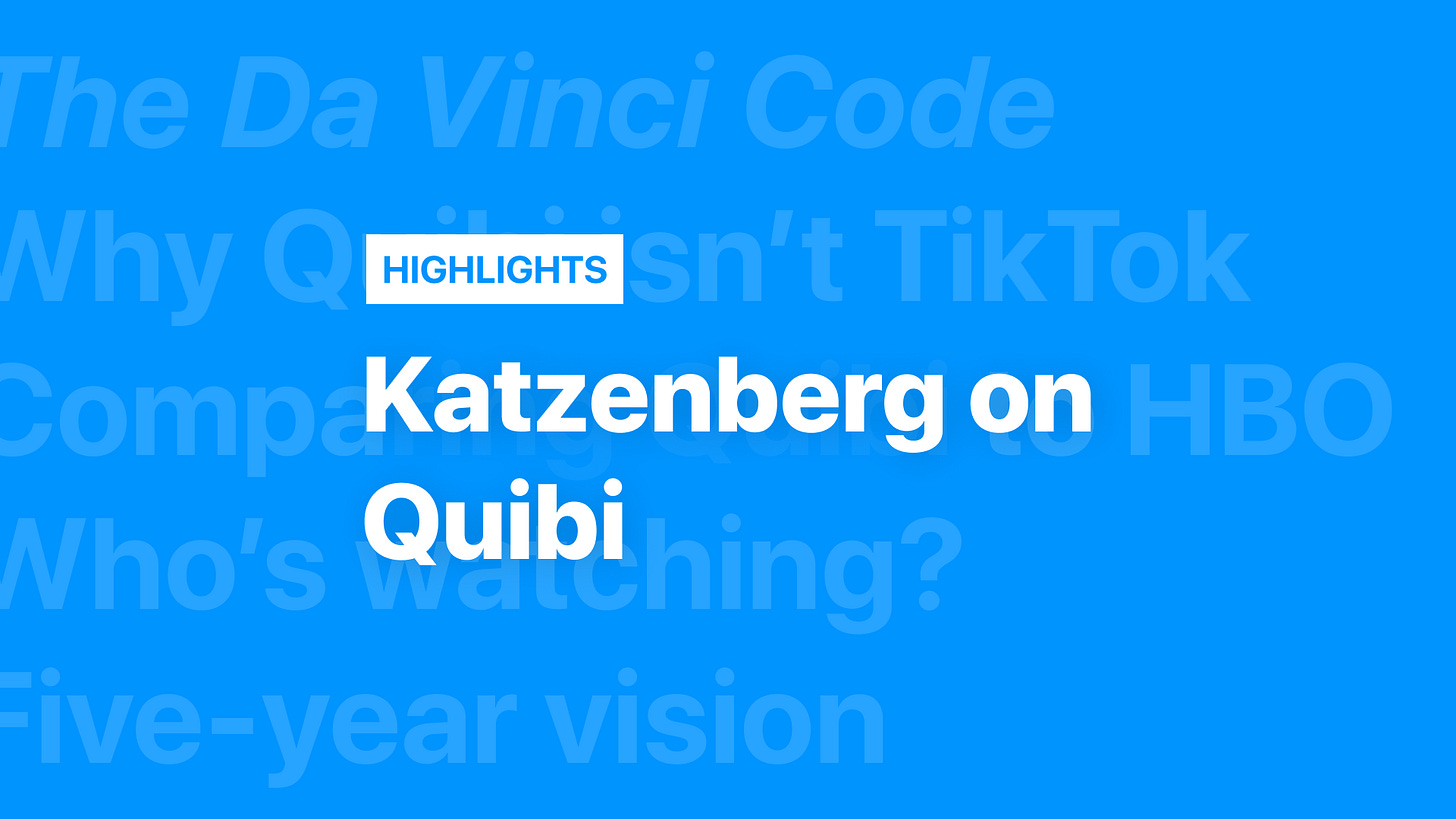 What Quibi and The Da Vinci Code have in common
"Before Dan Brown, authors split their novels into chapters with 20 to 40 pages in them. Why? Because that's how many pages the average person can read in 30 minutes to an hour. Authors don't want people to stop reading in the middle of a chapter.
When I picked up Dan Brown's book, I noticed that he put about five pages in a chapter. When I asked him why, he said, 'I don't know if people have 30-minute chunks like they used to anymore.'
In the days when people could only see movies in theaters, that was a 2-hour commitment. When the television set came along decades later, you could watch much longer stories in chapters. That's where we're headed with Quibi. We want to split longer stories into easy, bite-sized chapters."
Why Quibi isn't TikTok
"We won't get into user-generated content. Quibi is about really great stories— I don't want to watch just another video made by some guy, I'd rather see the new Guillermo Del Toro movie on my phone.
Our content has to be highly differentiated, and clearly differentiated, from those social media platforms that are free and ad-supported. Otherwise, why would anyone pay for it?"
Why Quibi's more like HBO
"At the height of broadcast TV in the 90s, multiple networks had audiences of 30, 40 million people per week watching shows. HBO comes along and says, 'It's not TV, it's HBO.' They weren't putting down TV, they were just different.
How? They had no commercials, and they changed the form and format, and had no standards or restrictions. So they could make Sex and the City, The Wire, or The Sopranos, none of which could be on broadcast TV, even today. And they spent money that an ad-supported broadcaster couldn't compete with.
So unlike YouTube, Facebook, Snapchat, or any of the others, Quibi is just different— if you can see it on other platforms, you can't see it on ours. We differentiate through our financial resources, our storytelling, and our talent.
Who's watching Quibi content
"We set out to make content for people between 18 to 44 years old, more specifically between 25 to 30 years old. The crazy fact is that over 28% of our audience is over 44 years old. And, by the way, they watch as much content as the 18 to 24 year-olds."
Where he wants Quibi to be in five years
"The thing that inspired me to do this, first and foremost, was the idea of a new form of storytelling. We could be a catalyst for a new form of film narrative, and that's the thing that's driven me.
Five years from now, Quibi is the new form of storytelling, like what Kleenex is to tissue or Google is to search."
---
Thanks for reading. If you have any feedback or suggestions for me, DM me on Twitter or via sagarramesh.com.
Inbetweens is a newsletter on animation and technology, featuring interviews with artists, project breakdowns, and more. Subscribe to receive new issues in your inbox!